---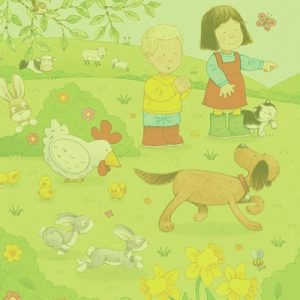 "Must-have" dalos könyv, amit akár a család együtt, akár a kicsi egyedül is élvezhet!
Hallgassátok meg újra és újra a legnagyobb kedvenceket, tanuljátok együtt a szöveget, a dallamot, böngésszétek jelentését a színes, keménylapú oldalakon! A 10 legismertebb angol gyerekdal köszön vissza a "fingertrail" és "touchy-feely" felületekkel gazdagított lapokon, úgy mint Humpty Dumpty, Little Bo-Peep és Twinkle, Twinkle Little Star. Végre Baa Baa Black Sheep gyapjas bundájába is beletúrhattok!
Introduce little ones to classic nursery rhymes including Humpty Dumpty, Little Bo-Peep and Twinkle, Twinkle Little Star in this delightful book. Babies will love listening and singing along to the tunes, looking at the pictures, lifting the flaps and running their fingers over the touchy-feely patches including Baa Baa Black Sheep's woolly coat.
Vélemények a termékről
2.
2020.08.09 10:39
- Sarlósiné Verpec Enikő
1.
2019.06.15 00:00
- Molnár Krisztina