Részletek
Hasonló termékek
Adatok
Vélemények
Részletek
Little children will love curling up with this soothing music book. Simply press the pages to listen to five calming classical tunes, including specially arranged music by Schubert, Haydn and Fauré. With delightful illustrations by Elsa Martinsshowing otters, koalas and lions enjoying the music.
Életkor: Birth+
Kiadó: Usborne
Oldal: pages
Méret: 210 x 210mm
Szállítási határidő:Ha ez a termék beszállítói raktárban van, a szállítási idő a beszállítótól függően 2-3 hét. Ha a termék készleten van, a szállítás 4-5 munkanap. Megértésed köszönjük!
Hasonló termékek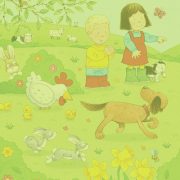 Adatok
Címkék
musical books,calming,nyugalom,zene,angol,english,language,usborne
Vélemények
Legyen Ön az első, aki véleményt ír!